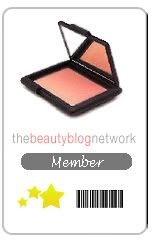 Lilan from The Daily Cookie brings you tips on how to look your best in just 10 minutes with CoverGirl celebrity makeup artist Molly Stern!

Beauty Anonymous reviews Shiseido Integrate Glamerous Rouge lip gloss!

Musings of a Muse reviews NARS Super Orgasm with NARS Orgasm and NARS Super Orgasm Comparison Swatches and Product Photos!

A Touch of Blusher reviews Basics Eye Palette from Bobbi Brown's holiday 2008 collection.

Beauty411 loves the new Chanel Smokey Eye Collection and tells you how to get the smokey eye look seen all over the runways at Fashion Week!

Is your hair unruly this time of year? Cybelesays recommends a few products to get your strands to behave!

Beauty and Fashion Tech is giving away a C&C California T-Shirt in Size Medium!

Beauty Junkie in SF found out that others have a love/hate relationship with Urban Decay's Primer Potion! YouTube is a crazy thing.

See what hair products The Makeup Divas uses, recommends and reviews, to keep hair in tip top condition.

Rouge Deluxe has the scoop on Shu Uemura's Holiday collection!

If you think you have to spend TONS of money for quality products, think again! Beauty Banter uncovers the 5 most fabulous drugstore body scrubs for under 10 bucks!

Makeup Moxie dishes on the new Cargo PlantLove Collection.

makeup loves me takes you behind the scenes and backstage at baby phat!

Spoiled Pretty is hosting a fashtastic giveaway. Enter to win products from Urban Decay's fall 2008 collection...plus a sinfully chic Ananas clutch to put them in!!!

Worried about aging lips? 15 Minute Beauty Fanatic has a great new anti-aging lip product, coming soon to your drugstore!

Pursebuzz.com does an in depth review of the Givenchy Phenomen'Eyes Mascara. Is it love or bust?