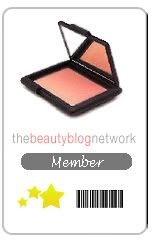 It's summer time! That's why EyeshadowCult.com recommends having bright paws to look more fun in the sun!

Come aboard The Makeup Divas and set sail for the Mac Naughty Nauticals review!
A Touch of Blusher checks out L'Oréal's True Match Super-Blendable Powder.
The Muse
reviews the latest and greatest from Japan with
Aube's new Summer Collection!
.
Beauty Anonymous
introduces you to this Fall's
upcoming new mascaras
.
In honor of her first anniversary, Bionic Beauty is holding a month of giveaways. This week enter to win one of 3 SpinLash mascara wands!
The Fragrance Fanatic finds the greatest Summer scent for the home: Sun & Sand.
Beauty Junkie in SF tries out the grab and go method of shopping for a powder foundation and has mixed results with Make Up For Ever.

In-office vs. at-home with the TRIA - The Daily Cookie starts her series on laser hair removal by giving you the pros and cons of each option!
Elke shares her current fav summer beauty finds.

makeup loves me gives you the secrets for re-creating audrina patridge's look from her birthday party!

Splurge or steal with Girl Gloss by checking out the affordable Sonia Kashuk Velvety Matte Lipcrayon that is almost identical to the Nars Velvet Matte Lip Pencil.
Beauty Banter
reviews Smashbox's BLUSH RUSH line
- 8 universal blush shades created to work on every skin tone!!!!
The girls over at
Beauty in Real Life
are having another
giveaway
! This time it's a basketful of Olay products valued at over $300!
Karen from
Makeup and Beauty Blog
shows you how to create an orange, gold and teal eye look with
Nars Cosmetics
.
Rouge Deluxe shows off her makeup haul from her Tokyo trip!

Beauty and Personal Grooming,tells you how to use leaves as beauty aid

The July Issue of The Beauty Ideal is out full of summer beauty tips and how to's.

Beauty411 shares her new summer fragrance.
Beauty Blogging Junkie
dishes about
highlights with Jane
at Hiro Haraguchi.
Another pick from
The Life of A Ladybug's
Bronzers for Brown Girls Series:
MAC's Bronzer in Refined Deeper Bronze and Loose Iridescent Powder in Golden Bronze!
Makeup Moxie
reviews
Cushion Lips by Vincent Longo
.
Spoiled Pretty
wants you to protect your peepers.
Enter today
for your chance to win a pair of limited-edition Etnia Barcelona N°00 sunglasses valued at $295. Two runners-up will win a $50 gift certificate to Margot & Camille Optique. What are you waiting for?