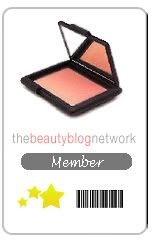 Canadian Beauty tells you what brushes to apply your mineral makeup with.

Makeup Moxie reviews the new Revlon Mineral Makeup.

Savvy Skin tells you how you can Get a $125 Wrinkle Cream for 99 Cents.

makeup loves me helps you achieve the gossip girl look , xoxo.

Beauty and Personal Grooming tells you about some terrific foot soothers

Check out A Touch of Blusher's wish list for the new Calvin Klein makeup line, available now at Sephora.

Girl Gloss shows you how to create a cranberry red lip look using three CoverGirl lip products.

Face Candy shows you the newest beauty trend: Moody Lip Glosses.

Elke reviews AquaTan and LOVES it.

The Beauty Blog Network is mentioned in a book! Find out which one!

Stylish Opinion says to say it with chocolate.

Missed the premiere issue of The Beauty Ideal? Check out the most popular article so far....

Temptalia has a tutorial on how to get an amazing neutral eye with a pink kick!

The Muse reviews Benefit's Thrrob Powder!

Spoiled Pretty turns her brown eyes blue . Find out how…

15 Minute Beauty Fanatic finds a cure for her winter skin issues!

Beauty Anonymous brings you an innovative way from Japan! Prettia Bubble Hair Coloring uses foam to dye hair fast and evenly

Glossypink takes a look at Spring Beauty looks from the Runway!

The Beauty of Life is so ready for spring after testing out the new Sugar Coated line from Orly!

All Lacquered Up tests the claims of the "As Seen On TV" product, the PedEgg Pedicure File.

Karen from Makeup and Beauty Blog gives you a sneak peek of Origins Spring Makeup Releases, complete with color swatches and product pics galore.