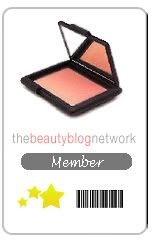 a-double n-o-u-n-c-e-m-e-n-t-s!

i have so many announcements to make this week and fantastic products (holiday and otherwise) to tell you about! i'm going to make rose/raspberry truffles today, but i'm also going to update you with all my newest and best discoveries, so keep stopping by!

Bionic Beauty reviews the new Milani Black Magic Eyeliner.

Christine at 15 Minute Beauty Fanatic discovers a quick way to moisturize her hands and feet.

Kyle at Face Candy, says YES to Carrots.Jeni from Savvy Skin gives you an extensive Guide To Cure Acne.

A Touch of Blusher previews Anna Sui spring 2008 makeup collection.

Because it's nice to be a little naughty, Makeup Moxie taps into the Good Girl, Bad Girl Palette from Too Faced.

SugarShock has found the secret to looking fabulous in every photo: Smashbox Flawless Finish Skin Perfectors.

Beauty and Personality Grooming - Winter hair care

Preview Chanel's Blue Satin Nail Polish before it releases on All Lacquered Up.

Karen from Makeup and Beauty Blog lists 43 makeup and non-makeup things she's thankful for this year.

The Glitterati fights The Man: They can take her time and her money, but they'll never get her Rimmel Viny Lip lipgloss!

Makeup Loves Me finds the perfect holiday gift for mom!

MAC Nail Lacquer and Fluidline Giveaway at Mystical Beauty's Musings.

Beauty and Fashion Tech looks at Beauty Accessories for Holiday Gifts

Elke tries the new Loreal Infalliable Lipcolor, over Thanksgiving Dinner.

Stylish Opinion finds a chocolate body scrub, good enough to eat!

Beauty Anonymous roundups 2007 Holiday Makeup Collection

Temptalia reviews MAC's THE STYLISTICS with in-depth detail, product photos, and swatches.