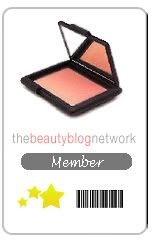 ahh, a long weekend of leisure. i've been watching movies (i saw enchanted yesterday - too cute!) and reading and eating to my heart's content. but now i pause from that to bring you the best posts from the beauty blog network this week.

Karen from Makeup and Beauty Blog interviews Paris Hilton and gets her top 5 beauty tips.
Bionic Beauty shares her mineral makeup look of the day: "Rockin' the Glow".
Lipsticks are Like Men: Makeup Moxie Reviews Guerlain KissKiss Lipstick.
Beauty and Fashion Tech has a list of makeup palettes that are perfect for holiday gifts.
The Muse shares her collection and reviews of Be Never Too Busy To Be Beautiful Perfumes.
Savvy Skin covets all of Oprah's Favorite Things 2007
Temptalia reviews MAC's Metal-X Collection with swatches!
Elke reviews the ColorPro stick on eye shadow stencils, with somewhat iffy results.
Stylish Opinion finds a new 'green' beauty skincare line, "Green By Nature".
The Beauty Blog Network welcomes newest member Scandalous Beauty to it's team.
Beauty Banter muses about the hot new trend: Cat Eyes... Who is wearing it and how you can achieve the look too!
15 Minute Beauty Fanatic checks out Prescriptive's Holiday 2007 Sets
A Touch of Blusher can't live without this hand cream!
Beauty and Personality Grooming - Herbal after shampoo hair rinses
SugarShock finds a bath and shower gel that's worthy of Cleopatra.
Makeup Loves Me is seduced by sunsilk' get hairapy commercials, but not it's shampoos.
Scandalous Beauty delivers an exclusive interview with Celebrity Make-Up Artist Sam Fine!
Face Candy gets a new holiday look and reviews Marc Jacob's newest scent- Daisy.