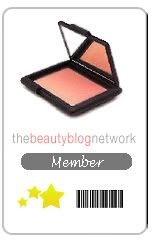 i have had a loooong week. i finally put my grad school applications in! i plan to have a very relaxing weekend. enjoy the weekend read!

The Beauty Blog Network Blog welcomes newest member Rouge Deluxe to the group!

Elke reviews Aussie's Hair Products. on her blog.

Makeup Moxie's fave new find: MAC lipstick meets Modern Art in these personalized "Kiss" Portraits from DNA 11.

All Lacquered Up's Nail Tip Of The Week; a solution for the horror that is Toes & Hose.

A Touch of Blusher reviews Chanel Ombre D'Eau Fluid Iridescent Eyeshadow.

Beautynomics reviews Yes To Carrots' Carrot Rich Moisturizing Scrub.

Karen from Makeup and Beauty Blog Gives You the Best of Clinique's Holiday 2007 Makeup and Fragrances.

The Mineral Makeup Blog reviews Mineralogie Pressed Mineral Powder and Matte Finishing Powder.

Temptalia has a tutorial for a bold, jewel-toned eye.

Beauty and Fashion Tech reviews the Star 50 Handbags Collection featuring a handbag for every state.

Savvy Skin says Infomercials - Fool Me No More!.

SugarShock gets the royal treatment with MAC Royal Assets palettes.

Hello Dollface hope to look like Heidi Hello Dollface and Heidi Klum's new makeup!

Musings of a Muse reviews the Bare Escentuals Pure Platinum Collection with Product Photos

15 Minute Beauty Fanatic tries Bond No. 9's new Andy Warhol's Silver Factory Fragrance

Beauty and Personality Grooming's The luxury called 'oil bath'

makeup loves me explores prescriptives' fabulous custom blend foundation.

Beauty Banter reviews MAC's Royal Asset's Lip Compacts, revamping her image for a night out on the Sunset Strip!

All Natural Herbaria Soaps get a glowing review from Bionic Beauty.

Pop-Up Makeup Brushes on Mystical Beauty's Musings.

At Face Candy, Kyle reviews Profound Beauty's Structure Hair Care Collection.

At DivaShop, Gloria tries an Aqua/Teal Eye Look.